Power maintenance is an extremely high-risk industry. Power workers are exposed to the risk of electric shock and fall from high altitude at the same time. In this case, they must have a good safety protection equipment.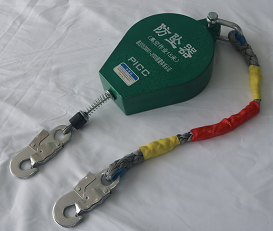 As the saying goes, if a worker wants to succeed, he must first sharpen his tools. If electric workers want to ensure construction safety, wearing fall arresters is one of them. This is a kind of fall protection equipment, which can be called the protective artifact of high-altitude operators. When it is used, the upper hook is hung on the fixed point, and the lower hook is connected to the worker's safety belt. In this way, even in the event of a fall accident, it can also lock itself instantly to prevent falling and protect the safety of workers.
The use of fall arresters can effectively protect the safety of electric power personnel working at heights, reduce the probability of accidents, and improve the efficiency of operations. Even though the power operation has been supported and helped by high-tech, it is also needed to improve the safety of construction.