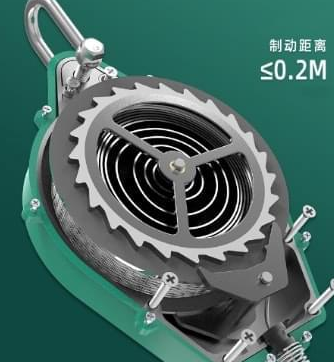 Each place has different names for fall arresters. In addition to fall arresters, there are several other names, such as speed difference automatic control device, speed difference device, etc. The name of the fall protector is easy to understand literally. In addition to the fall protector, the name of the speed differential is also quite common. So where did the name of the speed differential come from?
Before understanding the differential, we need to have a simple understanding of its working principle. The differential will not complete locking under normal operating speed. When it accelerates suddenly, the internal tower wheel speeds up its rotation at the same time, while the pawls on both sides are thrown out under the effect of centrifugal force. During high-speed rotation, it quickly engages with the ratchet. The tower wheel brakes instantaneously and under the effect of human load, The ratchet and pawl lock to prevent falling.
Speed difference, speed difference! As the name implies, it is speed difference, that is to say, the self-locking system is "activated" by centrifugal force using the speed change generated by sudden fall. This is the same as the seat belt on a car. In this way, the concept of speed difference is basically clear, which is the origin of the name of speed difference device.