Fall arresters are important safety protection equipment for high-altitude operations. When choosing a fall arrester, in addition to paying great attention to the quality of the arrester, there is also a very important point, which is to choose the appropriate specifications, mainly based on the length of the steel wire rope. So how to choose it reasonably?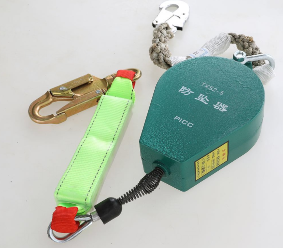 Before choosing a fall arrester, it is important to understand your work height and then make targeted choices. If the work height is above 20 meters, we can choose a 30 meter fall arrester and try to make more allowance. Taking tower crane operation as an example, the use of anti fall devices for tower crane operation is mostly to hang the body at the highest point, then connect the safety hook to oneself, climb down bit by bit, and then tie the safety hook to the vertical ladder after falling to the ground, until the next climb is used.

If the length of the steel wire rope of the anti fall device is insufficient, the tower crane driver can only remove the steel wire rope halfway down before continuing to climb down. This will lose the protection of the anti fall device and put oneself in a very dangerous situation. Therefore, Crown Airlines reminds everyone to first understand their height of action before making a choice when choosing an anti fall device.