There are a variety of brands of fall arresters, among which there are some "three no" products produced by small workshops. The quality and safety of this type of fall arresters are not guaranteed, and it is not recommended to buy them. For the first time to buy the fall arresters, I do not know how to choose. Now Guanhang will give you some suggestions.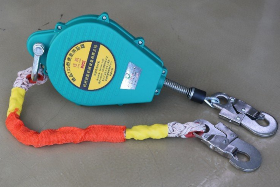 We need to make the most basic preparations for the selection of brands. At present, the Internet is developing rapidly. Most trustworthy brands can search a large amount of relevant information through the Internet. This is the case with the Guanhang Fall Arrest. Non-small brand fall arresters need at least these conditions. A large number of relevant information can be queried through the Internet, including more important manufacturer information, such as the manufacturer's address, The manufacturer's contact number, official website, etc.

If a certain brand can hardly find a few relevant information after searching, then the probability of this brand is that it is a low-quality product produced by a small workshop. There is no advanced production equipment input, no strict production link management, and no professional quality inspection for this type of fall arrester. It is not recommended to purchase this type of fall arrester.